2023 Provider Enrollment Series Recordings
Register

Non-member - $249
Member - $199
Provider Enrollment has become an essential competency for Medical Service Professionals and our research has demonstrated the core function this expertise plays in the profession to become Tomorrow's MSPs.
For the fourth year in a row, NAMSS recognizes the importance of bringing quality Provider Enrollment education to our members! This Bundle includes access to recordings of four interactive presentations focused on topics and skills MSPs need to tackle new provider enrollment opportunities. Purchase now to learn how to enhance your visibility, value and effectiveness as gatekeepers of patient safety alongside your fellow MSPs and a panel of experts in an interactive virtual setting!
CE Credits:
This bundle is eligible for 4.0 CE Credits.
Registration Rate:
Hover over the "Register" button in the top right corner to see the pricing
---
SESSIONS INCLUDED:
I. MASTERING PROVIDER ENROLLMENT 101
Speakers: Lynn Deaver CPCS, CPMSM; Cheryl Cisneros RN, BSN, CPCS, CPMSM; and Teresa Pequeno CPCS
Description: In this session, we will address the various career paths that are well-suited for individuals interested in provider enrollment, highlighting the skills and qualifications required for success in this field. We will also cover the different groups that enroll in provider networks, including hospitals, clinics, private practices, and other healthcare institutions. Additionally, we will touch upon the billing aspect of provider enrollment, discussing what services and procedures are typically billed for, and how accurate enrollment plays a crucial role in ensuring timely and accurate reimbursements. Lastly, we will provide valuable insights into the best time to initiate the billing process, taking into consideration factors such as payer requirements, submission timelines, and claim processing cycles. Understanding these optimal timing strategies can significantly impact revenue cycle management and boost financial performance.
Live Session Date and Time: Thursday, July 13, 2023, 1:00-2:00 pm ET

---
II. ENHANCING HEALTHCARE EFFICIENCY: UNRAVELING THE LINK BETWEEN PROVIDER ENROLLMENT AND CREDENTIALING
Speaker: Di Hall, CPCS, CPMSM, FMSP
Description: Join us for an insightful webinar that delves into the crucial connection between provider enrollment and credentialing in the healthcare industry. This interactive session will explore how these two vital processes align and impact the overall efficiency of healthcare organizations. In this webinar, we will begin by discussing where provider enrollment falls within the scope of credentialing and highlighting the integral role it plays in ensuring the delivery of high-quality care. Key topics will include the significance of NCQA and URAC standards in provider enrollment and credentialing, mapping the payer enrollment process and critical skills that can elevate the role of the provider enrollment professional.
Live Session Date and Time: Wednesday July 19th, 1:00 - 2:00 pm ET
---
III. ELEVATING PROVIDER ENROLLMENT AND CREDENTIALING: NAVIGATING A CAREER TRANSITION AND OVERSEEING COMBINED FUNCTIONS
Speakers: Cheri Lipps-Brindle, Senior Credentialing Coordinator, Office of Medical Affairs, Centura Health; Jessica Schwalm, CPCS; Heather Wright, Senior Credentialing Coordinator, Centura Health; Nyleen Flores BA, CPCS, CPMSM; and Julie Hatley, BS, CPMSM, CPCS, FMSP
Description: Join us for an engaging and informative webinar designed to equip professionals like you with the critical skills needed to excel in these roles and elevate the provider enrollment specialist's position within the healthcare industry. Our expert panel of industry professionals will share their knowledge, experiences, and practical tips to empower you in your career transition or combined department oversight.
Live Session Date and Time: Wednesday July 26, 2023, 1:00 - 2:00 pm ET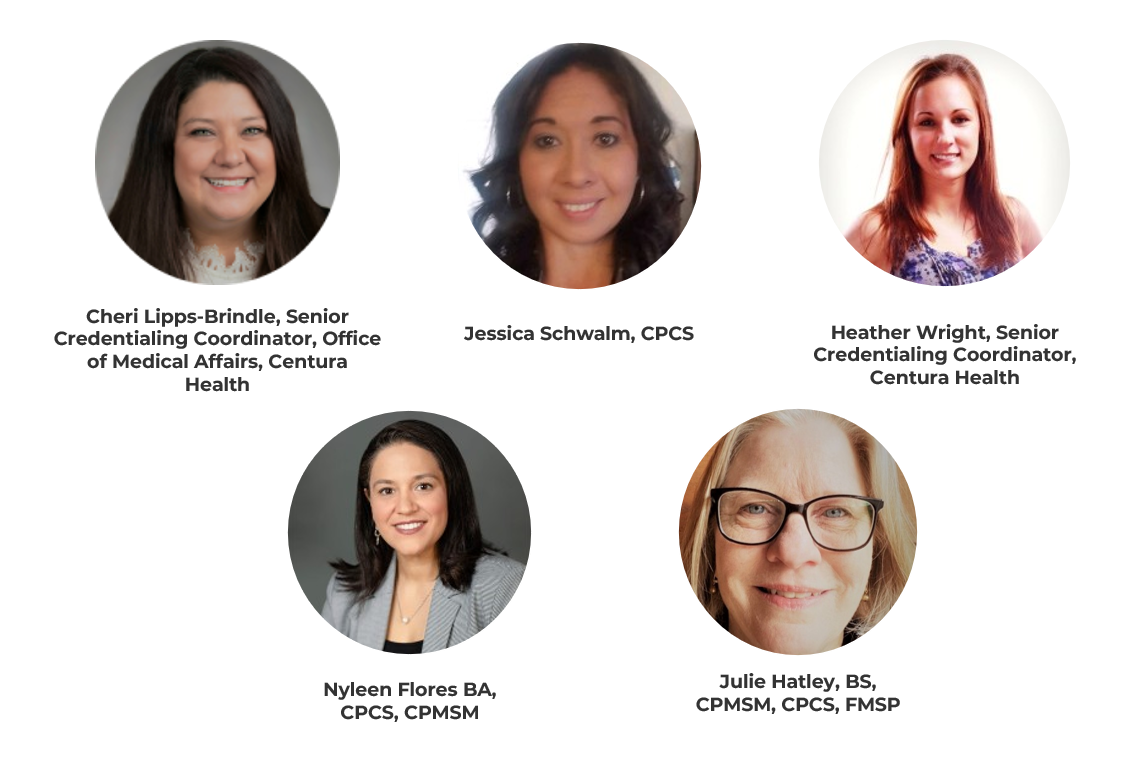 ---
IV. STREAMLINING PROVIDER ENROLLMENT: MAXIMIZING EFFICIENCY WITH CAQH
Live Session Date and Time: Tuesday, August 8th 1:00pm-2:00pm ET
Description: This webinar will provide a comprehensive overview of CAQH, highlighting its purpose, functionality, and benefits for healthcare providers, payers, and other stakeholders. During this webinar, we will clarify what CAQH is and what it is not. We will dispel any misconceptions and provide a clear understanding of CAQH's role as an industry facilitator, rather than a regulatory or accrediting body. Understanding these distinctions is vital for providers and organizations seeking to leverage CAQH resources effectively. The webinar will cover CAQH ProView, a robust online platform offered by CAQH. It will also delve into the benefits of CAQH for providers, shed light on the organizations and entities that utilize CAQH, and how CAQH maintains the accuracy and security of the information stored within its systems.
Speaker: Debra Draheim, BS, CPCS
Key:

Complete

Next

Failed

Available

Locked
NAMSS Participant's Agreement
1 Question | Unlimited attempts | 1/1 points to pass | Graded as Pass/Fail
1 Question | Unlimited attempts | 1/1 points to pass | Graded as Pass/Fail
You must complete the Participant's Agreement in order to access your purchased NAMSS Education.
I. Mastering Provider Enrollment 101 - Recording
Open to view video.
II. Enhancing Healthcare Efficiency: Unraveling the Link Between Provider Enrollment and Credentialing - Recording
Open to view video.
III. Elevating Provider Enrollment and Credentialing: Navigating a Career Transition and Overseeing Combined Functions - Recording
Open to view video.
IV. Streamlining Provider Enrollment: Maximizing Efficiency with CAQH - Recording
Open to view video.
Certificate of Completion
4.00 CE Credits credits | Certificate available
4.00 CE Credits credits | Certificate available
| Access Date | Quiz Result | Score | Actions |
| --- | --- | --- | --- |